Antique Wiener Werkstatte Ernst Wahliss demitasse set c 1890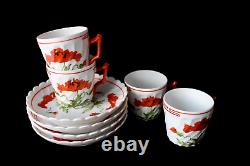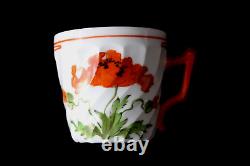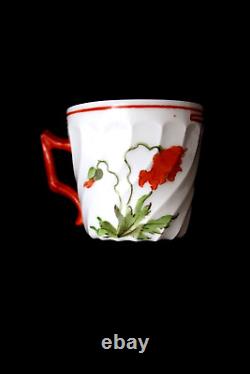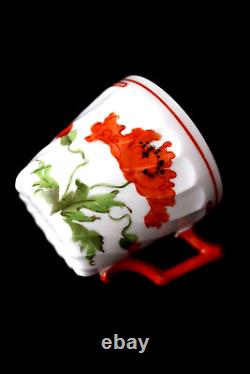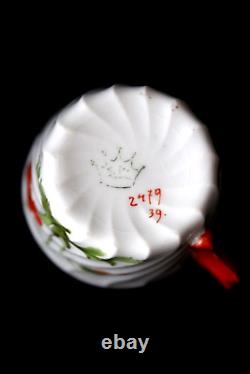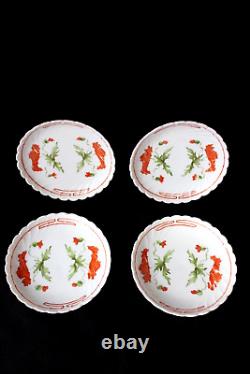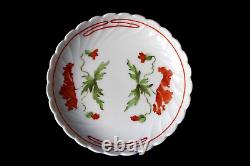 Designed and produced by Ernst Wahliss, an Austrian ceramicist who created decorative porcelain and earthenware vessels for European elites. To meet the high demand for his pottery and sculptures, the artist opened his own department store, Wahliss, in Vienna. His works can be found in the collections of the Museum of Applied Arts and Sciences in Sydney, the Carnegie Museum of Art in Pittsburgh, and the Museum of New Zealand in Wellington, among others.
Marked with Ernst Wahliss logo, crown mark, production number. Very elegant style with lovely hand painted red poppies with buds and green foliage on a beautiful white, swirl and in relief porcelain background, framed with exquisite red ribbon. Beautiful shape of the saucers with wavy borders and swirl on the cups with poppy red handles. Excellent condition, very small hairline of 5 mm on the inside of one of the cups but nothing serious really and on the underside of the same cup, some fading on the red poppies of the saucers.
Diam top cups 5 cm.