Six Antique Whiting Sterling Silver Georgian Demitasse Cups Saucers 469.17 Grams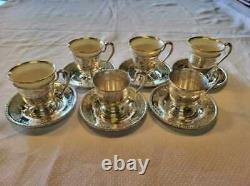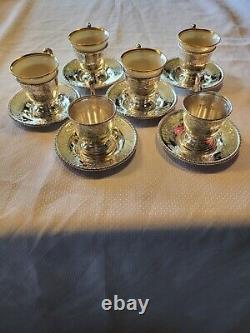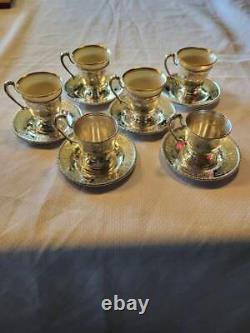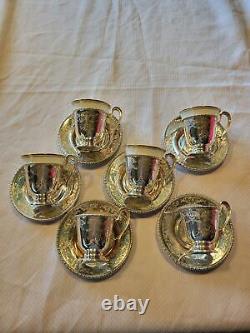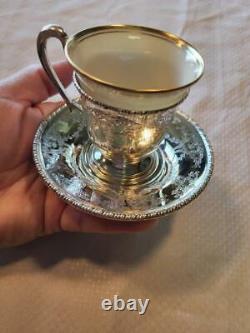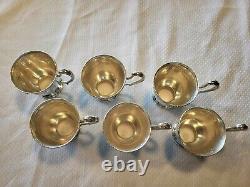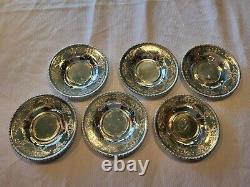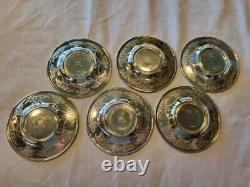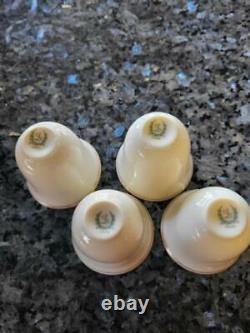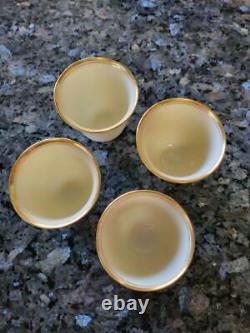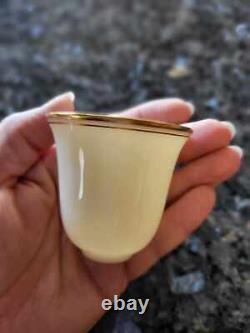 Whiting Sterling Silver Georgian pattern Demitasse Cups and Saucers weighing approximately 469.17 Grams total without the Lenox Porcelain Liners. The saucers measure approximately 4 inches across x 1/2 inch deep, the cups measure approximately 2 5/8 inch tall from the bottom rim to the handle top (2 1/8 inch cup only) x 3 inches wide from the handle to the rim edge 2 1/16 inch across the top cup rim and the Lenox porcelain liners measure approximately 2 3/8 inch high x 2 1/4 inch across the top. There is a fancy script monogram on one side of each cup, AFR. Each saucer is marked 131-26 (26 is inverted), Sterling and the Whiting "W" with arch and arrow points. Each cup is marked Sterling 131-26 Whiting Mfg.
The four Lenox liners have a double gold rim edge and are marked with the traditional script "L" and laurel leaf design and Lenox. Founded in Attleboro, Massachusetts, in 1866 by William Dean Whiting, who was famous for his work making sterling silver objects at Tifft & Whiting, the Whiting Manufacturing Company was one of the late 19th century's premier producers of sterling silver flatware, hollowware, and other decorative objects.
A fire at the factory in 1875 forced the company to relocate to New York City. My husbands father brought back many lovely pieces of jewelry, porcelain, clothing, perfumes, and household items to his new bride upon his return from Europe after WWII. Many of the items have gone to family, but there are still many items that need a home, and they are listed here. There are also other items, long held family treasures that also need to find new homes, as we have no room in ours for them. Many of them have been passed on from generation to generation over 100's of years.
We hope they find a home with you. I bought many gemstones, carvings, minerals, gold, and other fine items while in the jewelry industry. Please look at my other loose carvings and gems for design or collection.